Shadow Foaming®
Foam it, find it.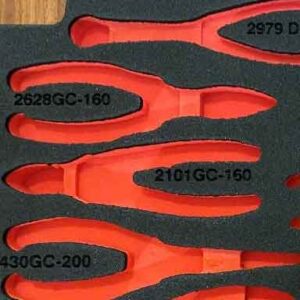 Shadow Foaming® is the process in which we create bespoke foams for any tools, items or accessories to sit in. The foam we use is versatile and can be cut easily. Shadow Foaming® is a material that is strong enough to withstand daily use, so you don't need to worry about it getting worn or tearing.
There are a wide range of industries that we can create bespoke foams for, but we are most commonly asked to produce custom tool foam for our customers.
How does it work?
Whatever you need to fit into your foams, we can create a bespoke design to fit your needs. We take a scan of your items, which is then created digitally where our design team create the custom foams.
Once the bespoke shadowing foam design has been completed, using tool paths, the design is cut into the foam using a router. This cuts each shape precisely. The foams are then cleaned up and sent back to you, ready to use!
What are the benefits of bespoke Shadow Foaming®?
Shadow Foaming® acts as an organisation tool, each item has its own slot cut out into the shadowing foam, therefore no more rummaging through a tool kit or drawer trying to find what you need. The foam is two-toned, the top layer is black with another colour underneath. So when it is cut to fit an item the colour shows, this means that you can easily see the coloured under layer showing if an item is missing. Not only does it act as an organisation solution, Shadow Foaming® provides a protective layer for your belongings when they are inside their case and prevents items from becoming damaged.
Get your Shadow Foaming® quote
To have one of our sales team contact you regarding our bespoke shadowing foam service, please click here.
Did you know; we also specialise in custom tool shadow boards, which allows you to keep your tools and equipment safe and tidy at home, work or in the garage.
Read Our Tool Foam Related Articles: