WHAT IS ERGO™?
An ergonomic tool is one that collaborates with you to accomplish the desired goals while minimising the risk of work-related injuries. For this to be effective, it must be your first choice in your toolbox, which is why an ERGO™ tool is more than just a nice handle.
The ERGO™ tools will also increase the quality and productivity of the job done, which implies that we must design all of the tool's characteristics in accordance with the ergo process.
WHAT IS THE ERGO™ PROCESS?
The ergo process is a tried-and-true product development method, with professional users at its centre. BAHCO  conduct interviews and watch their work to determine the needs that the new tool should address. They then explore and test, and the finest ideas are picked by professional users in their real-world workplaces. The final design is then validated by the end users.
The individuals who are used by BAHCO for testing are members of the BEUN. This is a network of dedicated specialists from all relevant trades and geographical locations. BEUN members are not compensated by Bahco; they participate because they care about their job and want to be a part of and influence the company's future generation of tools.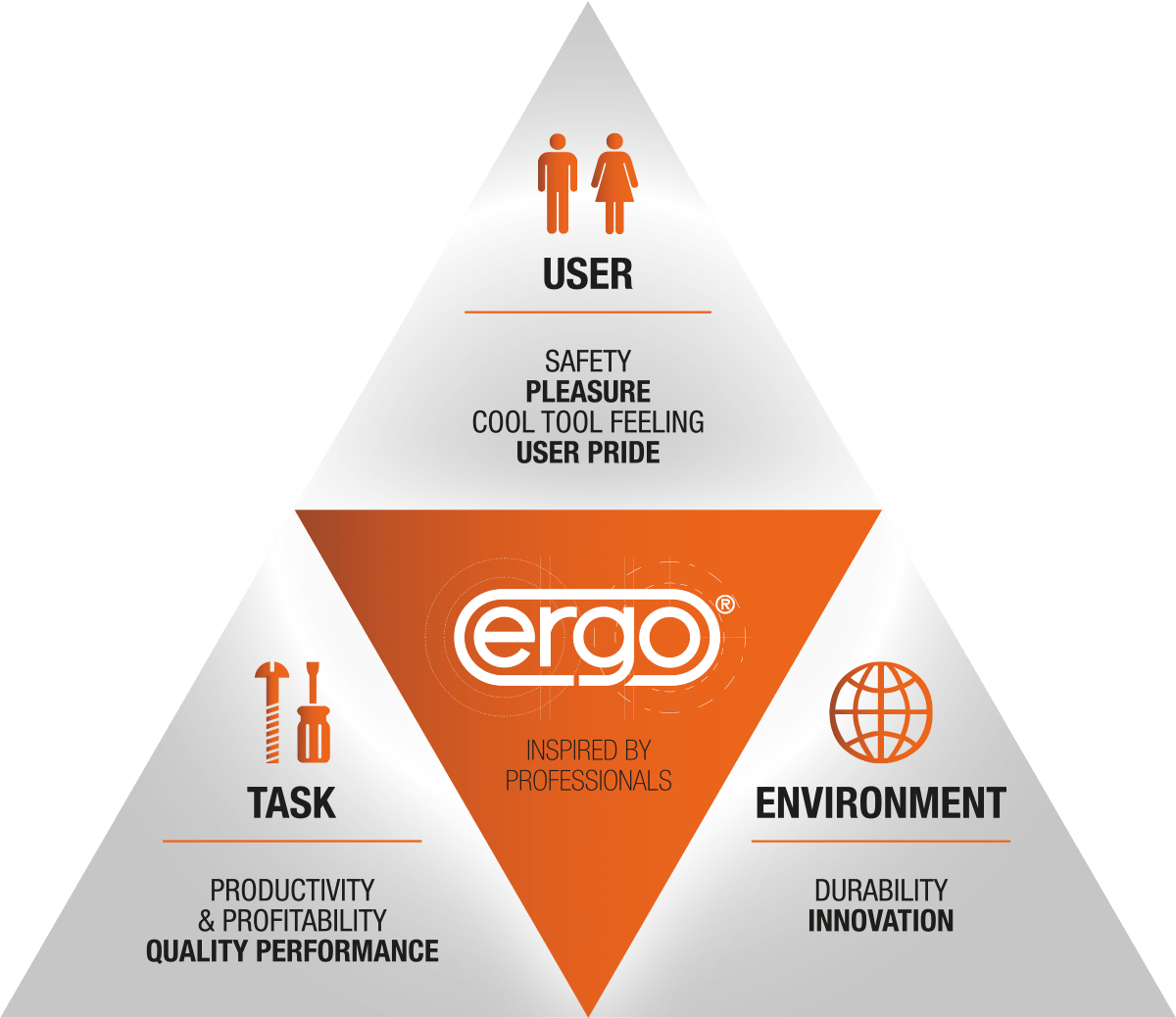 WHY CHOOSE ERGO™ TOOLS?
A FUSION OF INNOVATION, DESIGN & MATERIALS
Bahco's ERGO™ tools are built around you. They belong in your hands and react to every twist and turn. This product range safeguard the 42 separate hand muscles essential for a solid grasp, prevent potentially dangerous circumstances, and, most significantly, make difficult work simpler.
COMMITMENT TO QUALITY
Everyone at Bahco is enthusiastic about their tools and the products they produce. The company is known for valuing the individuals who use their products and understand that their reputations are shared. This is aided by Bahco continually striving for better, with innovation key to their continued success.
For experts who know that only the best will do, ERGO™ tools are the only option.
IT'S ALL IN THE GRIP
Ergonomics is the science which optimises how
Ergonomics is the discipline of optimising how you interact with your surroundings. Ergonomic tools provide greater engagement since they are tailored to your needs.
Because of the comfortable design, needed grip strength is maintained to a minimum, allowing hand muscles to rest and lowering the danger of fatigue.
The ERGO™ tool handles from Bahco are intended to provide you with the superior sensory feedback you want for precise control and the confidence you require to produce the best outcomes.
DESIGNED TO PROTECT
Poor equipment may have an impact on more than just the ultimate outcome for long or challenging projects. Long-term use of low-quality instruments can result in painful muscle, bone, and joint issues known as musculoskeletal illnesses (MSDs). ERGO™ tools are designed to minimise the chance of sustaining these conditions while maintaining performance and durability.